Opisthobranchia
(sea slugs)
of the eastern north pacific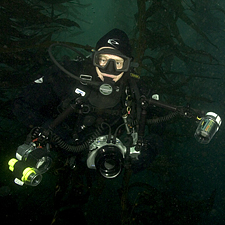 By Ken Ashman, copyright &copy 2000-2015
In my slug hunts I've traveled throughout the Eastern North Pacific, from Mexico to Canada. I've made many friends, and learned much about the ocean along the way. These tiny creatures add immensely to my enjoyment of underwater photography. Every dive with a macro lens is like a treasure hunt. By gathering the fruits of my slug hunts here, my goal is to share what I've found, and continue learning. I invite your insights and input. This collection is a labor of love and a work in progress.
---
WITHIN Class Gastropoda there are two subclasses, the spiral-shelled animals of Prosobranchia, and the sea slugs of Opisthobranchia. Over three hundred different species of opisthobranchs are known to live in the eastern North Pacific. My images below represent 1/3 that number.
---
Order Cephalaspidea
The Bubble Shell or Head Shield (cephalic) opisthobranchs are primitive sea slugs with external shells and rolled rhinophores. In the family Aglajidae the shell is minimal and internal, but most others in this Order have large shells and can easily be mistaken for marine snails.
Aglajidae Family:
---
Order Sacoglossa
The Sapsuckers are herbivorous sea slugs. Most have rolled rhinophores, but otherwise many in this order strongly resemble nudibranchs. Sacoglossans store their worn-out teeth in a pouch called an ascus.
Oxynoidae Family:
Elysiidae Family:
---
Order Anaspidea
The name Anaspidea means "without head shield". These branchs are herbivorous algae eaters. They are related to the cuttlefish, squid, & octopus, and like squid and octopus can secrete a noxious fluid & ink mixture if molested. The Sea Hares are named for their superficial similarity to the European Hare. The rolled rhinophores and overall shape of most members of the Aplysiidae family certainly bring a hare to mind. Two members of the genus, Aplysia californica and its bigger cousin A. vaccaria, are the largest branchs in the ocean, the latter reaching a meter in length.
Aplysiidae Family:
---
Order Notaspidea
The Sidegills also have rolled rhinophores. Most have internal shells, but a few have hat-like external shells. The gills of the notaspideans project from the right side of the animal, and to varying degrees look like the plumes of a quill pen.
Tylodinidae Family:
Pleurobranchidae Family:
---
Order Nudibrancia
The Order Nudibrancia is by far the largest, and is divided into four Suborders: Aeolidina, Arminina, Dendronotina, & Doridina.
Suborder Doridina
Goniodorididae Family:
Onchidorididae Family:
Polyceridae Family:
Aegiretidae Family:
Dorididae Family:
Chromodorididae Family:
Dendrodorididae Family:
---
Suborder Dendronotina
Tritoniidae Family:
Dendronotidae Family:
Hancockiidae Family:
Dotidae Family:
Lomanotidae Family:
---
Suborder Arminina
Arminiidae Family:
Dironidae Family:
Zephyrinidae Family:
---
Suborder Aeolidina
Flabellinidae Family:
Eubranchidae Family
Aeolidiidae Family:
Glaucidae Family:
Tergipedidae Family:
---
Bibliography
Rudman, W.B. 2005. The Sea Slug Forum - Australian Museum, Sydney. The species list and general topics sections of the Forum provide exhaustive resources on all opisthobranchs throughout the world.
Behrens, David & Hermosillo, Alicia. 2005. Eastern Pacific Nudibranchs: A Guide to the Opisthobranchs from Alaska to Central America. Sea Challengers. pp 1-24, 33, 37, 42, 49.
Behrens, David. 2005. Nudibranch Behavior. New World Publications, Inc.
Miller, Michael D. 2005. The Slug Site - The Branch of the Week (BOW) section provides excellent information on hundreds of opisthobranchs. Links to many branch-orientated websites.